A Scrap of Paper
November 5th – November 20th at the Greenwich Street Theatre
By Victorien Sardou Directed by Mary T. Boyer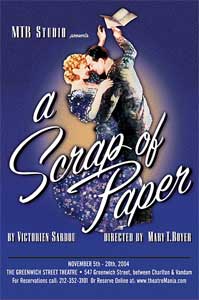 The MTB Studio presents A Scrap of Paper, By Victorien Sardou. Directed by Mary T. Boyer. Performances begin on Friday, November 5th, and run through November 20th at the Greenwich Street Theatre, located at 547 Greenwich Street, between Charlton & Vandam.
Originally produced on Broadway in 1878, A Scrap of Paper has been updated to a delightful screwball comedy, set in the enchanting 1930ís, where one long-lost love letter puts everyone in a tizzy! At the center of this adventure is a pair of adversaries, destined to become lovers.
Victorien Sardou (1831-1908) penned over 70 plays. His best known farce is Divorcons! His semi-historical melodramas include Patrie! and Fedora in which Sarah Bernhardt made her triumphant return to the Paris Stage. George Bernard Shaw invented the word "Sardoodledom" to describe Sardouís plays... a perfect word for a screwball comedy.
Mary T. Boyer has directed many acclaimed productions including Dancing At Lughnasa, The Heidi Chronicles, Our Town and Detective Story. She is also Artistic Director of the MTB Studio, now celebrating its second year. The MTB Studio is becoming recognized as one of the foremost acting studios now in New York City.
Press Contact: Mary T. Boyer @212-216-0602